October 3, 2023
Barbering vs Cosmetology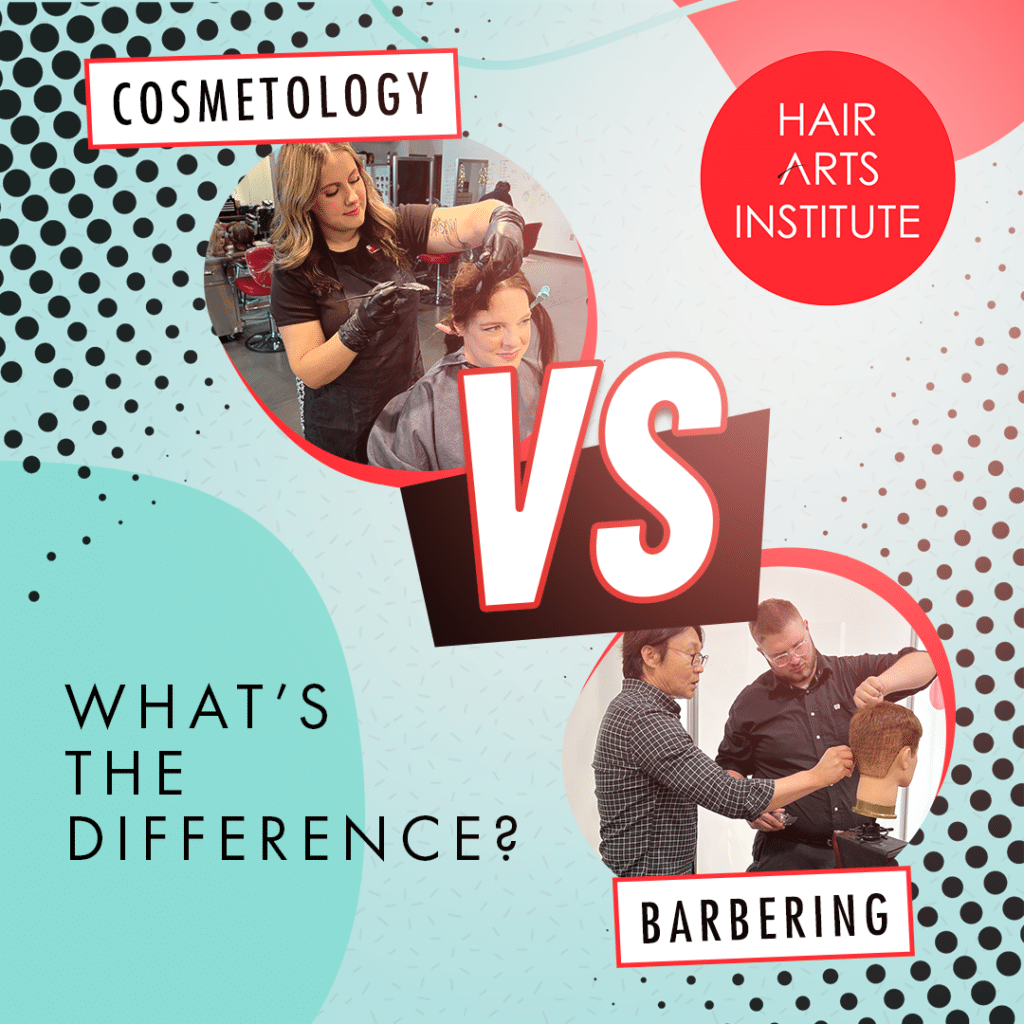 Being a barber and a cosmetologist are two separate career paths. Although there are some similarities between the two fields, ultimately, they're very different. So, as you're considering what you want to study in school, you need to know the ins and outs of both industries, so that you're confident you're choosing the program of study that's right for you. Once you pick one program, you'll eventually become licensed in that field, so it's crucial you're confident that's the path for you.
Let's discuss what it entails to be a cosmetologist and what it entails to be a barber. You'll understand each career path by the end, and even more importantly, you'll be able to make an informed decision as to what you want to study.
Understanding Barbering and Cosmetology
Barbering: The Basics
According to the National Association of Barbers, barbering is different than cosmetology because it is focused on men's grooming, and barbering school doesn't train professionals to be versed in nail care, the body, and issues other than hair. In other words, barbering is typically a profession for those who want to cut, shave, and style men's hair, but even as barbering professionals predominately serve men, they don't have to exclusively serve men.
In barbering school, you're going to learn different techniques that are typically used on men's hair and facial hair, but that doesn't mean you won't cut women's hair as a barber, depending on your clientele.
Cosmetology: The Basics
So, if barbering is centered around cutting and tending to (predominantly) men's hair, then cosmetology is much broader. When you study cosmetology, you will be exposed to things like nail care, makeup, hair cutting and coloring, how to tend to feet in pedicures, and more. It's important to note that cosmetologists are not always licensed in multiple fields—like makeup and hair—but very often they are. At Hair Arts Institute, we are focused on training cosmetologists who specialize in hair.
Training and Education
Barbering Education
When you're entering a barbering program, you can expect that you'll learn a variety of things, some theory-based and some practice-based. Some of the things you'll learn on the theory side of things are safe work practices, salesmanship, the history of barbering, shop management, tool and product knowledge and more. In terms of barbering practice, you'll learn things like hair cutting (for men and women) shaving, hair design, mustache and beard design, hair and scalp treatments, hair coloring, and other things.
Depending on how long it takes you to work through the curriculum, the time it takes to finish a barbering program will vary. At Hair Arts Institute, our program spans 1500 hours. So, if you are a full-time student who works through the coursework without taking any breaks, you could be licensed as soon as 9 months after beginning the program. Not all students work at this pace, but if you're eager to get licensed, you can surely get licensed in 9 months.
Cosmetology Education
For students enrolling in a cosmetology program get ready to learn exciting stuff. In Hair Arts Institute's program, we teach our students a variety of things, like scalp treatments, shampooing, hairstyling, hair coloring, hair cutting and shaping, hair restructuring and permanent waving, and other things. Of course, you'll also learn theory-based information in cosmetology school, too. Expect to leave school versed in topics like general theory, professional development practices, and more.
Just like Hair Arts Institute's barbering program, our cosmetology curriculum takes 1500 hours to complete. This means you could be finished in as little as 9 months, assuming you are a full-time student. However, you are not required to be a full-time student, as we offer part-time and full-time programs of study. There are many benefits to choosing Hair Arts Institute—one of which is that a celebrity hairstylist, Dianne Degnan, is a member of our teaching faculty.
Skillset and Techniques
What Are Some Essential Barbering Techniques?
The industry standards for barbering are always changing, but there are a few things that remain the same: you need to know how to cut hair precisely, understand different hair types, and have fine attention to detail. Some of the techniques barbers should know are as followed:
Clipper cut.

Scissor cutting cut.

Scissor over comb cut.

Scissors over fingers cut.

And many more.
What are Some Essential Cosmetology Techniques?
Cosmetologists need to be versed in a lot of skills. The most important thing is that a cosmetologist is able to be creative, meticulous, and adaptable to what the client wants. Of course, school can help you cultivate these skills, because in cosmetology school you'll become comfortable with the following diverse techniques:
Balayage.

Permanent color.

Reverse balayage.

Different haircuts.

And more.
Career Opportunities
Regardless of whether you pick barbering or cosmetology, rest assured that you are on your way to beginning a promising career. Both programs of study can set you up for a successful career. For barbers, you could be the owner or manager of a barbershop, an independent barber, a barbershop stylist, a product developer, a brand ambassador, and more. For those who go to cosmetology school, you could be a hair stylist, a salon owner, an independent contractor, a product rep, an educator, a salon manager, and more. Both barbering and cosmetology school give you the tools you need to begin your career—the future is in your hands when you attend Hair Arts Institute.
Ready to Begin? Choose Hair Arts Institute
It's crucial that prospective students are informed about the programs of study available to them. Before you start school, you need to be confident you're embarking on the career path that's right for you. There are benefits to being a barber, and there are benefits to being a cosmetologist—so consider each field and choose the one that interests you the most.
If you're ready to start your new career, then Hair Arts Institute might be right for you. We're committed to helping our students succeed, so for more information about enrolling in either our barbering or our cosmetology program, contact us.