June 15, 2023
What To Expect On Your Hair School Tour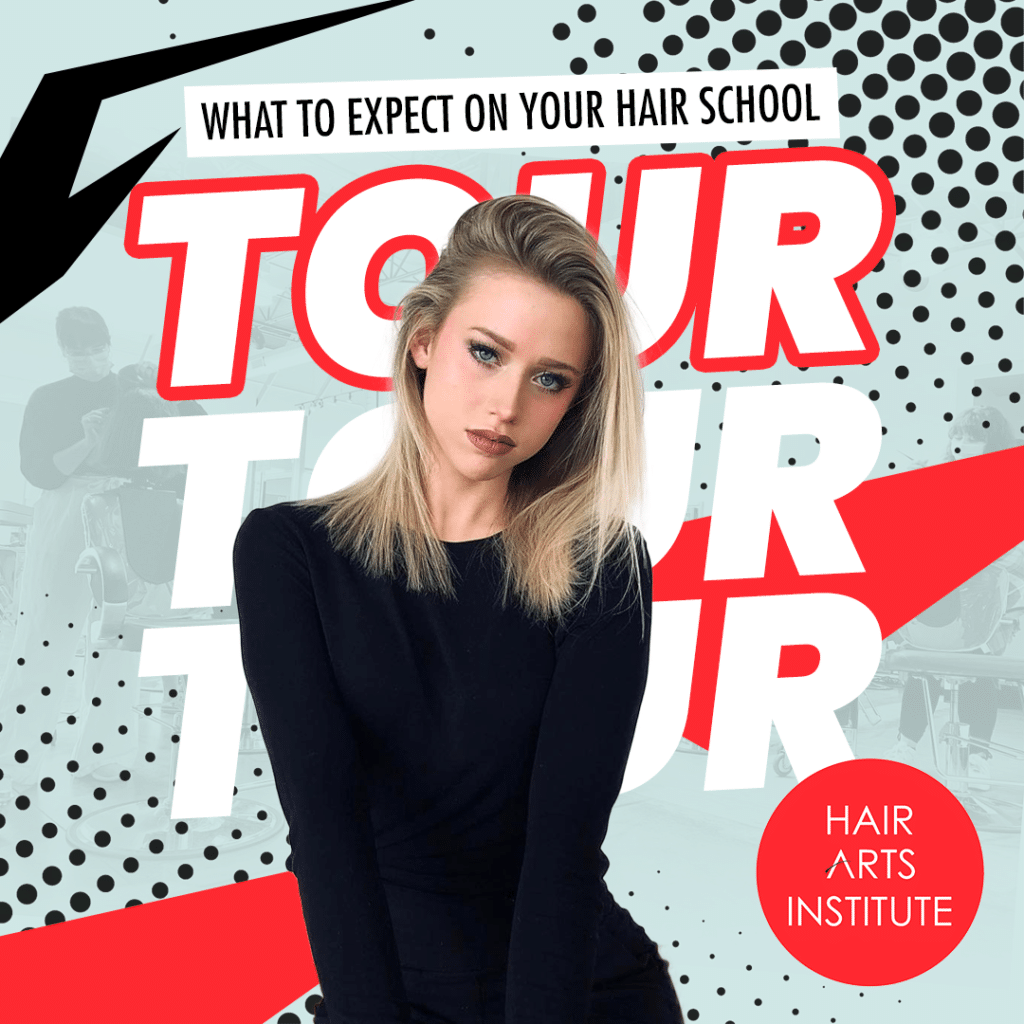 Deciding to attend beauty school can be a life-changing decision, but it's important to choose the right school to ensure you receive the education and training you need to succeed in the industry. One of the best ways to get a sense of a school you could be attending is to schedule a tour. 
At the Hair Arts Institute, we believe that providing prospective students with a tour experience is crucial to helping them make an informed decision about their education and future career. In this blog, we'll explore what you can expect on a tour at Hair Arts Institute and why it's an important step in your beauty school journey.
What To Expect
A tour is an important part of your beauty school experience. To give you an idea of what to expect during your tour, here's a list of what you can anticipate:
Friendly Greeting
Upon arrival, you'll be greeted by one of our staff members who will introduce you to the school and its facilities. You'll likely be given a brief overview of the programs offered and a rundown of the admissions process.
Questionnaire
After the greeting, we kickstart the beauty school tour by getting to know you better. We start off with a questionnaire that helps us understand your needs and whether our school is the right fit for you. After that, we analyze the information we gathered. If we feel like Hair Arts Institute may not offer what you're looking for, we're honest about it. We want to make sure we're a good match for the student's passions and goals.
Facility Tour
You'll be taken on a tour of the campus, which will include classrooms, our student salon, and other facilities. This is your chance to get a firsthand look at the equipment and tools you'll be using as a student. This is a great way to get a sense of the overall environment and culture.
Curriculum Overview
You'll also be given a more detailed overview of the curriculum. You can discuss the topics covered in the program, the length of the program, and any specializations or certifications offered. This is a great time to ask questions about the specific courses and what you can expect to learn.
Meet With Faculty And Students
Finally, you'll have the opportunity to meet with faculty and current students. This is a great chance to get a sense of the school culture and ask any questions you may have about the day-to-day experience of being a student at the Hair Arts Institute. You may also have the chance to observe a class, giving you an even better understanding of what it's like to be a student in the program.
What To Bring
Although not mandatory, we highly recommend bringing a few items along with you on your tour to ensure you have the best experience possible. 
Family or friend:

It's always beneficial to bring a trusted family member or friend to join you on the tour. The decision to attend beauty school is significant, and having someone to support and assist you can help to alleviate any anxiety or stress you may feel. 

Pen and paper:

Bringing a pen and paper to take notes during the tour can help you keep track of important information such as program details and admission requirements.

A list of questions:

Creating a list of questions you want to ask during the tour is highly encouraged. This can help you stay organized and ensure that you gather all the information you need to make an informed decision.
By coming prepared for your tour, you can make the most out of your experience with us!
What Questions Should I Ask?
At the Hair Arts Institute, we encourage you to ask as many questions as you need during your tour. We believe that the more information you have, the better equipped you will be to make an informed decision. If you're unsure where to start, we have a few sample questions that you may find helpful to ask during the tour:
What programs do you offer?

What are the

admissions

requirements?

What are the class sizes?

What is the schedule like?

How much does the program cost?

Do you have job placement assistance?
Why Schedule A Tour At Hair Arts Institute?
We believe in staying true to our strengths and passions, and we're not here to be everything to everyone. We strive to provide an exceptional education to students who share our enthusiasm for hair.
We take our responsibility seriously, always prioritizing honesty and doing what's right for our students. It's not just about putting up a shiny new school—it's about years of dedication, hard work, and genuine talent that shape us. We understand that graduating with knowledge alone is not enough. It's about having the skills, confidence, and support network that will carry you throughout your career.
So, if you're looking for an educational institution that genuinely cares about your growth, a place where quality education, individual attention, and a supportive environment emerge, then we can be the perfect launchpad for your career!
Schedule Your Tour With Us!
A beauty school tour is an essential step in deciding where to pursue your education. At the Hair Arts Institute, we're dedicated to providing prospective students with a positive tour experience that gives them a sense of what they can expect from us.
We understand that choosing a school can be a daunting decision, which is why we strive to make the process as informative and welcoming as possible. We look forward to welcoming you to the Hair Arts Institute and helping you take the next step in your beauty career.