August 21, 2023
How To Become A Barber In Oklahoma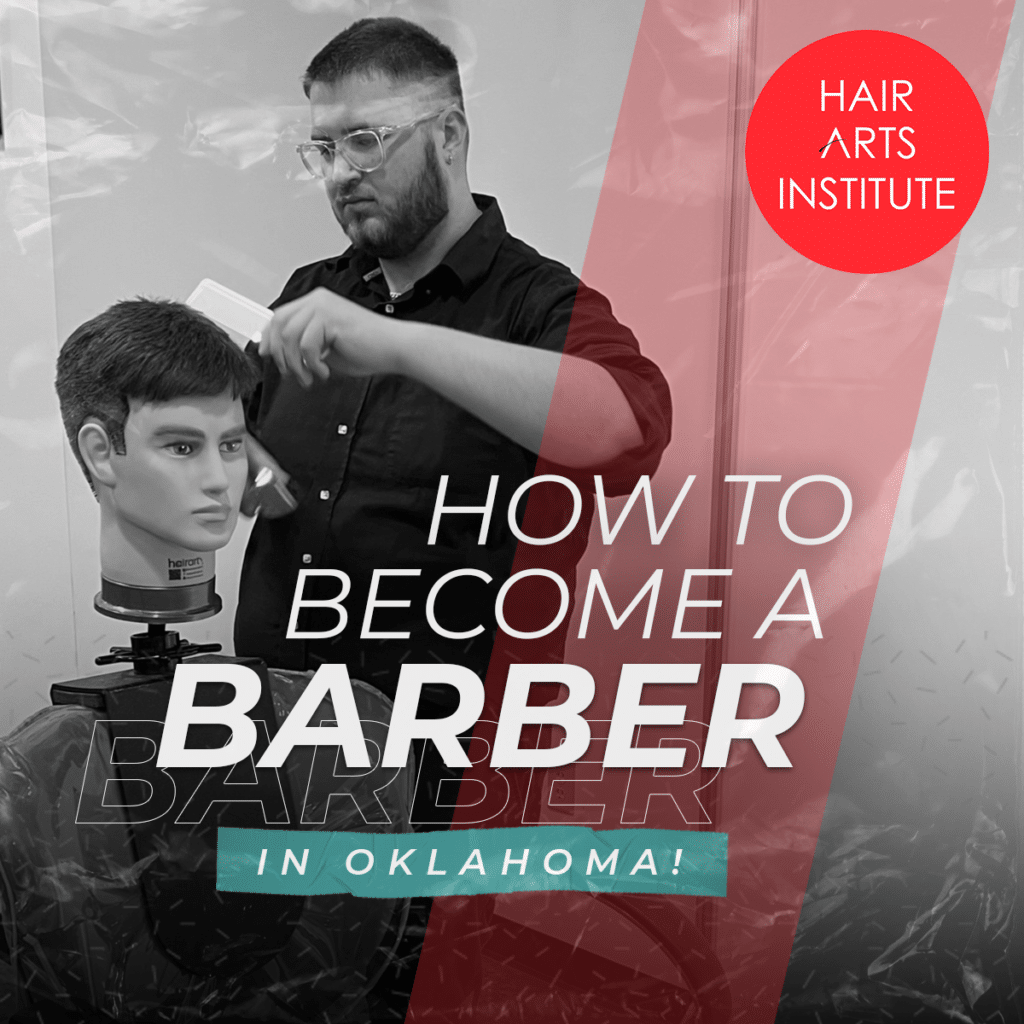 Are you passionate about creating unique hairstyles, crafting precision haircuts, and helping people look their best? If so, a career as a barber might be the perfect fit for you. In this blog, we will guide you through the process of becoming a barber in Oklahoma and show you how we can help you hone your skills and unlock your true potential.
Enroll In A Barbering Program
The first step to becoming a barber is to enroll in a program! At Hair Arts Institute, our barbering program is 1500 hours and can be completed in as little as 9 months. With full-time and part-time programs available, we cater to individuals with diverse schedules, ensuring that you can pursue your barbering education at a pace that suits your needs and commitments.
In our program, you can expect to learn:
Haircutting and styling

Men's shaving and beard design

Facial massage and treatment

Hair coloring

Safe work practices

infection control

And more!
Pass The Exams
Now that you've graduated from a program, it's time to put your knowledge to the test! There are two exams you will need to pass: the written exam and the practical exam. You can register here. The exam requirements are as follows:
Has completed at least the eighth grade.

Is over the age of sixteen (16)

Completion of 1,500 hours of study or an equivalent number of credit hours

Exam Fee – $35.00

Pass a written and practical exam with a minimum of 75%
The Written Exam
The written exam will be a 90-minute, multiple-choice exam, covering your barber theory knowledge. The exam will test you on the following:
Infection Control

Bacteriology

Client Consultation

Draping for Facial and Shaving Services

Anatomy

Chemistry and Electricity

Treatment of Hair and Scalp

Haircutting Methods and Procedures

Shaving Procedures

Facial Hair Design
The Practical Exam
For the practical exam, the Board will grade your ability to perform barbering services. Barbering services that may be tested include the following:
Set Up and Client Protection

Shaving with a Straight Razor

Basic Facial

Haircutting/Hairstyling

Final Cleanup
Start Your Career As A Barber! 
If you've passed your exams, it's now time to start your career! As you embark on this path, you enter a world where creativity, skill, and personal connections converge. As a barber, there are various career paths you can explore within the grooming industry. Here are a few potential career options:
Barbershop Owner
If you have an entrepreneurial spirit, owning and operating your own barbershop can be a rewarding career choice. You can create a unique space, set your own working hours, and build a loyal client base while managing the business aspects of running a barbershop.
Barber Stylist
As a barber stylist, you can combine your barbering skills with hairstyling techniques. This allows you to offer a wide range of services, including haircuts, beard trims, styling, coloring, and more. This versatility can attract a diverse clientele and provide opportunities to work in upscale salons or high-end establishments.
Mobile Barber
With the growing demand for convenience, becoming a mobile barber can be a lucrative career option. You can provide grooming services on the go, visiting clients at their homes, offices, or events. This flexibility allows you to cater to busy professionals, celebrities, or individuals who prefer personalized services at their convenience.
Platform Artist/Educator
If you have a passion for teaching and sharing your expertise, you can pursue a career as a platform artist or educator. This involves conducting workshops, demonstrations, and training sessions at industry events, schools, or professional organizations. Sharing your knowledge and techniques can help inspire and educate aspiring barbers.
Barbershop Manager
If you enjoy the administrative side of the industry, becoming a barbershop manager is a viable option. You can oversee the day-to-day operations, manage staff, handle scheduling, and inventory, and ensure a smooth customer experience.
These are just a few examples of the diverse career paths available within the barber industry. As you gain experience, refine your skills, and network within the industry, you may discover unique opportunities that align with your passions and goals. 
Become A Barber With Hair Arts Institute!
Don't miss out on the chance to turn your passion into a lifelong profession. If you're ready to get started on this journey, don't hesitate to contact us! We're more than happy to answer any questions regarding your education. We look forward to hearing from you!